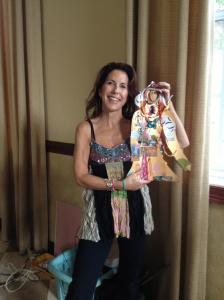 As I Seed The Day and seize each opportunity to connect with the creative Muse within me, I remain grateful for the intuitive and expressive process which allows me to create my paintings.
As a mixed media artist, I revel in the process of weaving symbolic motifs with an endless supply of both found and man made materials. The resulting textures and layers are integral to my artwork, as they metaphorically describe the depth and complexity of a woman's life.
Themes of the Feminine recur within the imagery of my artwork, stylized and often saturated with vibrant hues revealing narratives of a colorful and hopeful life.
Expressing myself intuitively, without restraint or self judgment is the most natural and self -fulfilling experience I have known.
Children play and create with a natural sense of wonder and freedom. Curious and joyful, they are free of self criticism and express deep pride in their accomplishments. Accompanied by my courageous muse, I play once again and share in the spontaneity and enjoyment of the healing gifts of art.