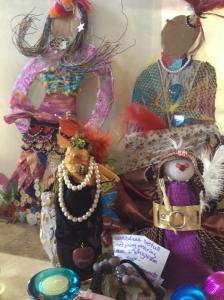 How incredible and what excitement during our recent SEED THE DAY Workshop in Delray Beach.
Five years of planning and a wonderful collaboration between Nanette Saylor of Wise Well Women Inc. and myself, led to a mindful and creative event filled with lovely, blooming Muses,self reflection and creative ,intuitive play.

As I participated in the visualization and mindful connection to my senses, while walking silently, I was reminded how far I have come in living a life filled with expressing my personal ,intuitive playfulness. My guiding muse, "Gaia", approached me once again and soothingly laid her hand on my head , blessing me for inviting her into my passionate, artistic filled life.
As I create, regardless of my materials or work/play on any particular day, she stands besides me and gently guides me.

GAIA, my friend, my teacher, my innate, intuitive colorful Muse.